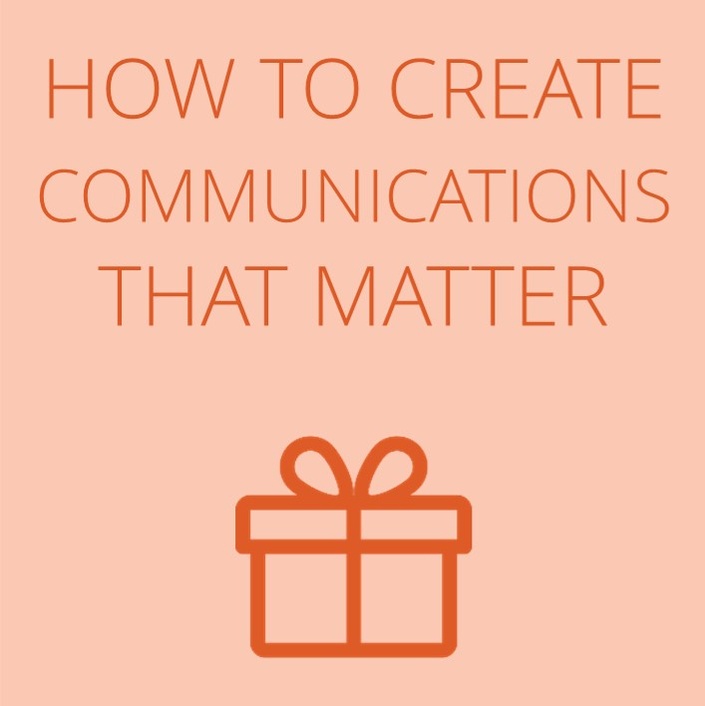 How to create campaigns that matter
Take the guesswork out of creating meaningful communications that engage
Running a small business is hectic. Multi-tasking is par of the course, with operations, production and administration dominating your focus. And the ever-important job of engaging people through communications is also in the mix.
One of the biggest challenges we've learnt from small business owners is determining what to communicate that conveys why your offer is meaningful in your customer's lives. And developing a long-term communications plan to take the guesswork out of what to communicate, and when.
This course is designed to help small businesses overcome these dilemmas. It's a 2-step process we've developed & used in Invenire for many years, across a range of different industries, products & services, and business sizes.
This course shares this process with you, to come out with -
A clear & simple customer-centric value proposition

A structured plan for communications plan to deliver the value proposition & start executing your communications
This course is designed to run as a Sprint. In one week, you'll move forward to having a value-led communications plan, ready to execute - and get long-term mileage from!
KEY PRINCIPLES INCORPORATED
The 2-step process includes key principles & frameworks -
Value Proposition - clarify the core value of your offer. This clarify the customer value for your communications, and within your internal culture.
Customer-centric Approach - ensure your value proposition is customer focused, and meaningful to them & their world
Left & Right Brain Activation - incorporate both rational and emotional triggers within your communications
Different Decision Makers - structure your communications to meet with the different ways people decide your offer is the right choice for them
WHAT YOU'LL NEED
Your time is important...but so too is executing communications that matter. We've designed this course to move your forward quickly, requiring a small commitment of time, team members & a few basic tools -
Minimum 2 team members; ideally 3-4 members from different company roles/departments

One short session per day (1h -2.5 hours per day across the week)

A quiet workspace for brainstorming and conversations

Some basic tools - pens, post-it notes and a blank wall space
You'll come out with a communications plan you can roll out for an extended period of time, and execute easily every month. In addition, you'll learn the 2-step process and principles which you can use again for other campaigns!
Course Contents
BEFORE GETTING STARTED...
Available in days
days after you sign up
DAY 1: GEARING UP!
Available in days
days after you sign up
DAY 2: CREATING THE VALUE PROPOSITION
Available in days
days after you sign up
Frequently Asked Questions
How long do I have access to the course?
This course is designed to be completed within 1 week, but you'll have access for 6 months after you sign up so you can complete it at your own pace.
Does the price include tax?
If VAT is applicable in your country, it will be added during the chckout process.
Your Instructor
Meet Miranda, storyteller and your Shout a Round Community Manager. She's passionate about people and society. Making sense of the world today, by asking 'why' and connecting the dots.
With a background in global food market research & insights, she applies behaviourial understanding and cultural experience to identify new potential & solutions, and help clients reach their goals. Particularly passionate about #WinWinWin thinking, #RegenerativeBusiness, growing her own vegetables & repurposing retro finds.
*Video credits: Photos courtesy of RawPixel; Music courtesy of Mixkit